Kalkaska
Campground
Relaxation, adventure, and escape all combine together at the beautiful
Kalkaska campgrounds. Enjoy our unique outdoor stays with your
friends and family.



Incredible RV
Experiences
Gorgeous views, full RV hook-ups, and tons of fun activities that make your
RV experience at Kalkaska an unforgettable adventure.



Private Log
Cabins
Leave the hustle and bustle of city life behind and enjoy the perfect log home
retreat at one of our quaint camping cabins.
(all cabins have both a heater and air conditioning)


About Us
Kalkaska RV Park and Campground is a family-owned establishment run by Joe and Tina Cooper along with their daughter Jessica. We've translated our passion for the outdoors into creating memorable camping experiences for our guests.
Kalkaska County is one of the best places in Michigan for nature lovers and outdoor enthusiasts. Set up a tent or your RV at one of our picturesque locations and enjoy plenty of picnic spots, swimming activities, walking trails, and more. Or you can choose to delve into surroundings by visiting local hot spots such as Traverse City, Torch Lake, and the beautiful Sleeping Bear Dunes. Whatever you decide, the perfect camping experience awaits you at Kalkaska RV Park and Campground.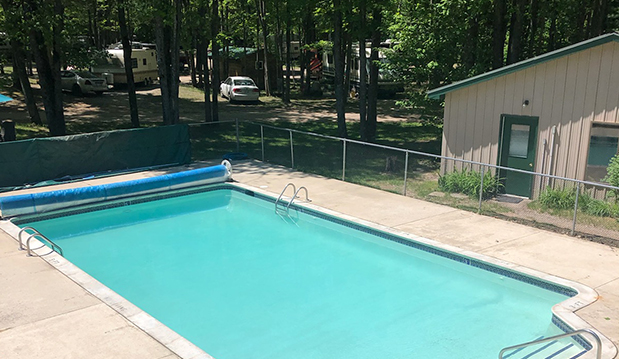 Where to Stay
Whether you're an RV enthusiast, enjoy spending a night under the stars, or prefer the comfort of your cabin, we're here to make your experience as pleasurable as possible.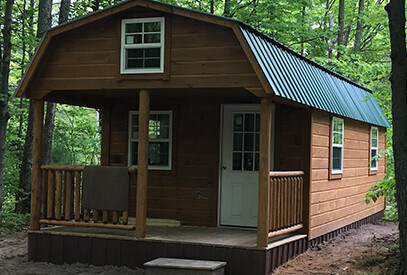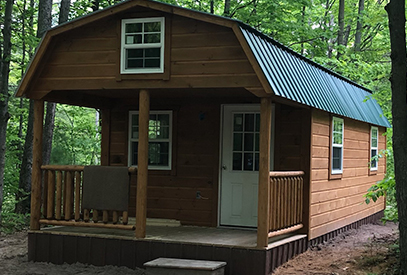 HOT
Nestled in the woods, we have several cabins that combine the rustic charm of outdoor living with all the modern amenities you need to ensure a comfortable stay.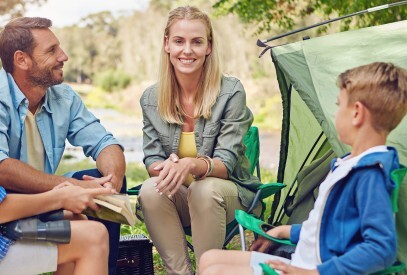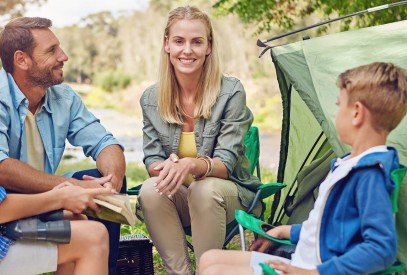 Get up close and personal with all the beauty and wildlife that the Midwest has to offer. Set up your tent and enjoy the scenic and peaceful outdoors like never before.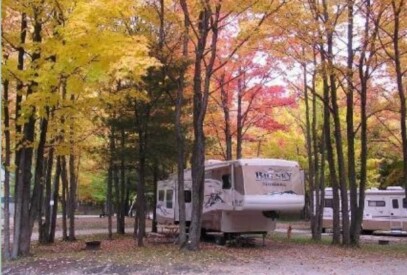 Find affordable and easily accessible RV sites that come with full hook-up and a range of modern amenities designed to make your stay comfortable and relaxing.
What Clients Say
We love creating memorable camping experiences for our guests. Here's what our happy campers have to say.
Rules/Policies
HELLO CAMPERS!
We have partnered with a company called Sky-Web to bring you FULL-SERVICE WI-FI! For a nominal fee ($2 Daily, $12 Weekly, $30 Monthly) you have coverage throughout the entire park up to 4 devices!
*Camping rates are based on 2 Adults and 3 children under 17 with one camping unit permitted per site (Motorhomes, Travel Trailers, 5th Wheels, Pop-ups, Tents, Camper Vans, Camper Trucks etc.). Extra guests are charged $5 per person per night.
Extra tents on APPROVED campsites are allowed for an additional $15 flat rate fee.
ATV's, ORV's and/or Golf Carts are not permitted to be ridden inside the park.
* All rates are subject to change without notice *