Kalkaska
Campground
Relaxation, adventure, and escape all combine together at the beautiful
Kalkaska campgrounds. Enjoy our unique outdoor stays with your
friends and family.



Incredible RV
Experiences
Gorgeous views, full RV hook-ups, and tons of fun activities that make your
RV experience at Kalkaska an unforgettable adventure.



Private Log
Cabins
Leave the hustle and bustle of city life behind and enjoy the perfect log home
retreat at one of our quaint camping cabins.
(all cabins have both a heater and air conditioning)


About Us
Kalkaska RV Park and Campground is a family-owned establishment run by Joe and Tina Cooper along with their daughter Jessica. We've translated our passion for the outdoors into creating memorable camping experiences for our guests.
Kalkaska County is one of the best places in Michigan for nature lovers and outdoor enthusiasts. Set up a tent or your RV at one of our picturesque locations and enjoy plenty of picnic spots, swimming activities, walking trails, and more. Or you can choose to delve into surroundings by visiting local hot spots such as Traverse City, Torch Lake, and the beautiful Sleeping Bear Dunes. Whatever you decide, the perfect camping experience awaits you at Kalkaska RV Park and Campground.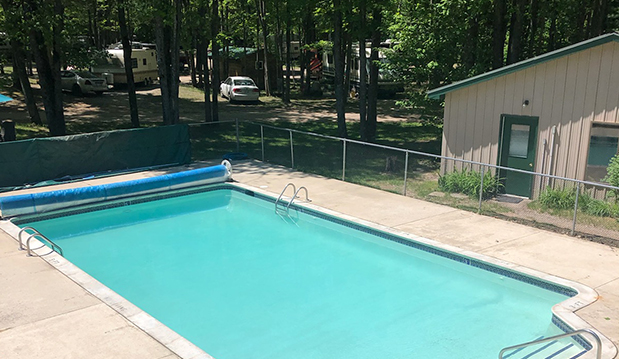 Where to Stay
Whether you're an RV enthusiast, enjoy spending a night under the stars, or prefer the comfort of your cabin, we're here to make your experience as pleasurable as possible.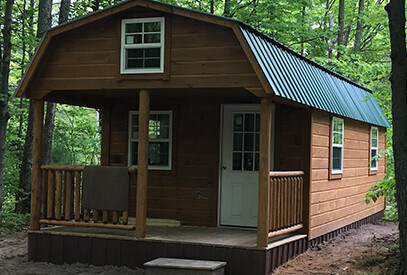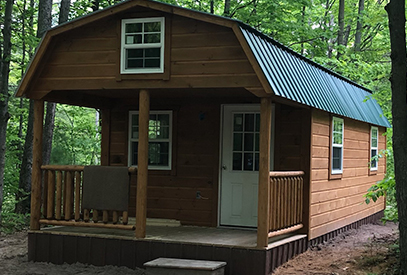 HOT
Nestled in the woods, we have several cabins that combine the rustic charm of outdoor living with all the modern amenities you need to ensure a comfortable stay.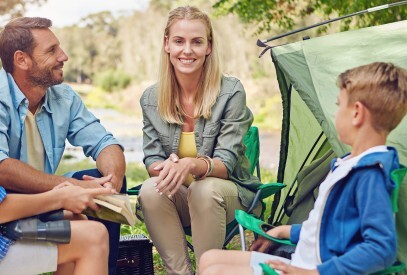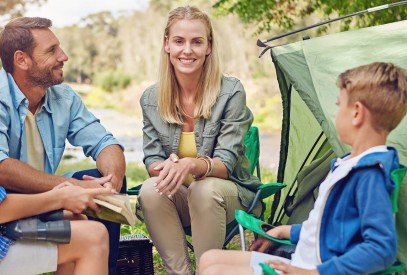 Get up close and personal with all the beauty and wildlife that the Midwest has to offer. Set up your tent and enjoy the scenic and peaceful outdoors like never before.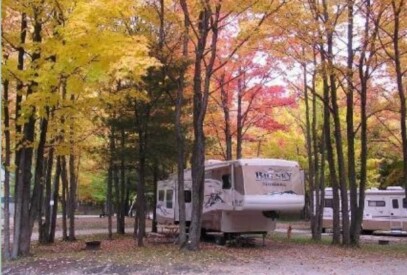 Find affordable and easily accessible RV sites that come with full hook-up and a range of modern amenities designed to make your stay comfortable and relaxing.
What Clients Say
We love creating memorable camping experiences for our guests. Here's what our happy campers have to say.
Steven Ostrowski
2021-07-20
This campground is our favorite! We stayed in the new cabin 5 and we loved it. The owners are so friendly and accommodating. Bathrooms are clean and well lit. Pool was heated and very clean. Thank you for the great stay, we will be back next year!
Michael Steimle
2021-07-19
Beautiful private campground. Pool at main lodge. Lots of hiking trails. Campsite are spacious and equipped with a fire ring for campfires. Utilities are available on many sites, as well as a couple cabins. Our cabin came equipped with dual lofts and also half-size refrigerator, picnic table, air conditioning and heat. Our cabin could potentially sleep 8 people having 6 individual beds and a futon in the main room that could comfortably sleep 2 adults. Note: the lofts are best left for the kids due to lack of headroom clearance. Futon in main area, refrigerator and picnic tables in main living area, and a semi private master bedroom for the adults. Old growth trees on rolling hills and beautiful scenery. Wildlife abound. This campground exemplifies the best that Northern Michigan camping has to offer. I HIGHLY RECOMMEND Kalkaska RV Park and Campground. 5-stars.
we found a great camp site
This camp was fantastic! You can tell that the owners and staff really care about this place and their pride shows. Bathrooms were clean, my kids loved the pool and the nature walk was great.
Sharon _ Kevin Covietz
2021-07-14
Very nice campground. Well maintained and owners are on top of things. Nice clean facilities with laundry and pool.
Cute campground. Fits all size rvs. Heated pool but closes too soon. Really nice getaway spot. The staff are very helpful friendly!
This was our 1st RV park on our trip around the US. This place is so beautiful and quaint, very woodsy and clean. Thank you to Joe, Tina and Jessica for helping us when we arrived and for being wonderful hosts. ❤
Excellent campground! The owners are very friendly, sites well maintained, bathrooms very clean! We had a rustic site, and it was a great size! They even deliver firewood to your site! We will definitely be back! Oh, awesome pool as well! Highly recommend!
Christine Pion
2021-07-06
Love this place! We have stayed twice so far this summer (2021.) Clean, heated pool, shady sites, and very kind and helpful owners/staff. (They even gave us free batteries for kids' light-up toys that we bought at their camp store.)
Rules/Policies
HELLO CAMPERS!
We have partnered with a company called Sky-Web to bring you FULL-SERVICE WI-FI! For a nominal fee ($2 Daily, $12 Weekly, $30 Monthly) you have coverage throughout the entire park up to 4 devices!
*Camping rates are based on 2 Adults and 3 children under 17 with one camping unit permitted per site (Motorhomes, Travel Trailers, 5th Wheels, Pop-ups, Tents, Camper Vans, Camper Trucks etc.). Extra guests are charged $5 per person per night.
Extra tents on APPROVED campsites are allowed for an additional $15 flat rate fee.
ATV's, ORV's and/or Golf Carts are not permitted to be ridden inside the park.
* All rates are subject to change without notice *