HALLOWEEN CAMPING!


LOCALS ARE INVITED TO JOIN IN ON THE FUN!

STAY TUNED FOR 2020'S HALLOWEEN EVENTS!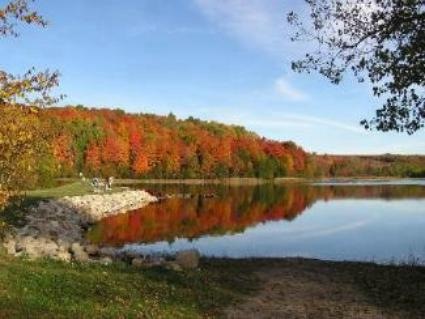 Enjoy area hiking, mountain biking, great beaches, canoeing & kayaking, ORV trails, hunting & fishing (with a license), fall colors tours, mushrooming, casino, golfing, scenic drives, summer art festivals/fairs, studios & galleries, wineries, shopping & antiques.

For information on a hunting and fishing license check out https://www.michigan.gov/dnr/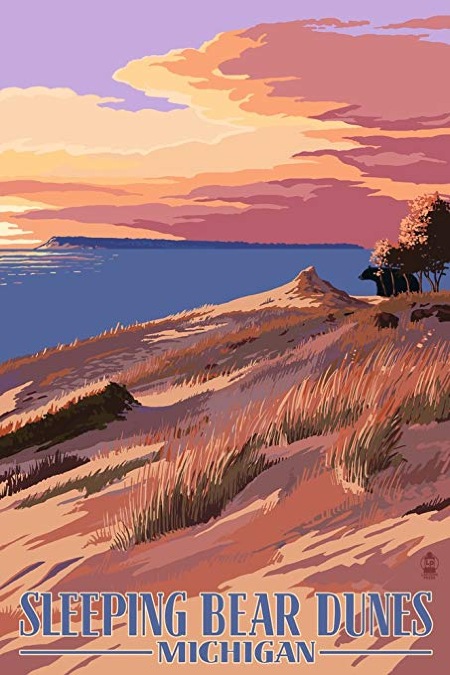 One hour drive to the beautiful scenic Sleeping Bear Dunes.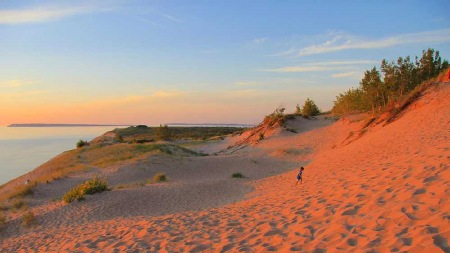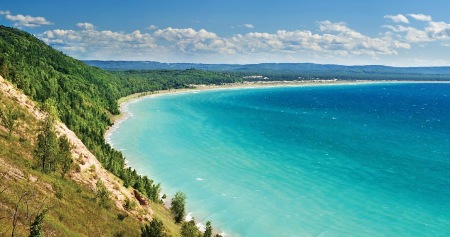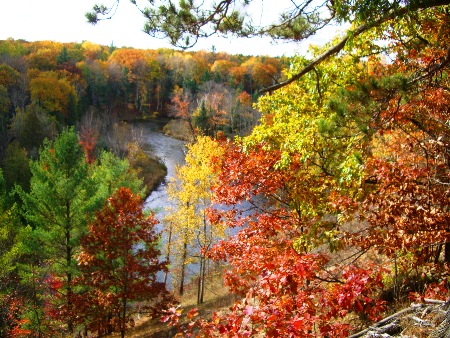 Kalkaska County is 50% state owned land 83 + Lakes in Kalkaska County for swimming, boating & fishing ,275 miles of rivers & streams for canoeing, tubing & Kayaking,nature centers, pathways,overlooks & bluffs and a


Canoe, kayaking, rafting and tubing liveries in the Kalkaska & surrounding areas that we send our guests to include:

-Shel-Haven, Manistee River, between Grayling & Kalkaska, *Closest to Campground*
(888)348-2158 or 989-348-2158
-Penrods, Au Sable River, Grayling, 888-467-4837
-Smithville Landing, Manistee River, between Lake City & Kalkaska, (231)839-4579
-Swiss Hideaway, Jordan River, Mancelona, (231) 536-2341
-Chippewa Landing, Big Manistee River, Lake City, (616) 839-5511 or (616)824-3627
-Riverside Canoe Trips on the Platte River out to Lake Michigan in Honor, MI- west of Traverse City 231-325-5622

All have great scenic runs and many guests returned from their canoe trips very happy.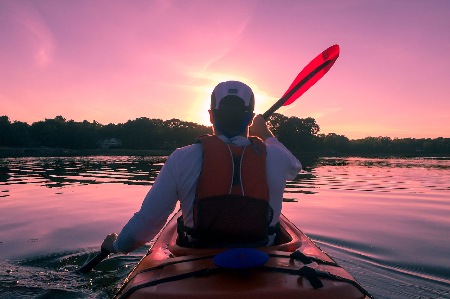 Kayaking in Otsego and Kalkaska-Counties


-Bear Lake - perch and bass
-Big Twin Lake - trout and bass
-Big Blue Lake - trout and bluegill
-Cub Lake - bluegill, walleye, and bass
-East Lake - bluegill, walleye, and bass
-Guernsey Lake - trout bluegill, perch, and bass
-Indian Lake - bluegill and bass
-Manistee Lake - bluegill, crappie, perch, walleye, bass, and sunfish
-Pickerel Lake - bluegill, perch, walleye, and bass
-Skegemog Lake - northern pike, musky, perch, and bass
-Starvation Lake - trout, bluegill, and bass
-Streams: Boardman River - trout
-Manistee River - trout
-Rapid River - trout, steelhead, and northern pike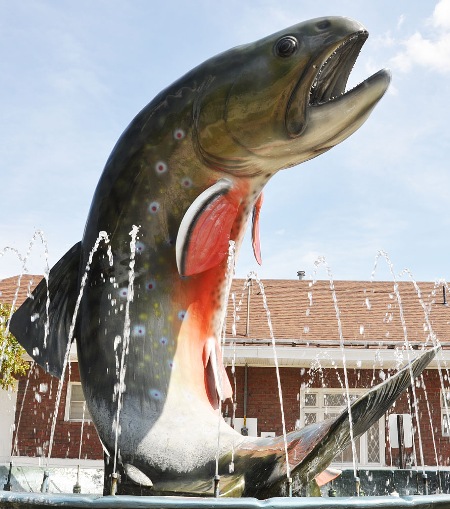 Kalkaska is home to several scenic golf courses, each with its own unique set of challenges.

Golf Courses:

-Grandview Golf Club (231) 258-3244 3003 Hagni Road NE, PO Box 1229, Kalkaska, MI 18 holes; 6,400 yards, located 5 miles east of Kalkaska on Hagni Road off County Road 612. Restaurant offers panoramic view of course.

-Timber Wolf Golf Club (231) 258-5685 5646 M72 SE, Kalkaska, MI 18 holes; 6,500 yards; Opened in 1997, Scenic, hilly course carved through acres of pine trees. Located 6 miles east of Kalkaska on M72.

-Twin Birch Golf Course, (231) 258-9691 1030 County Rd 612 NE, Kalkaska, MI 18 holes; 6,133 yards. Complex includes driving range, pro shop, putting green, and restaurant. Located 1 mile east of Kalkaska on County Road 612

There are also outstanding golf courses in the Grand Traverse Bay area:
check out at: www.mytraversecity.com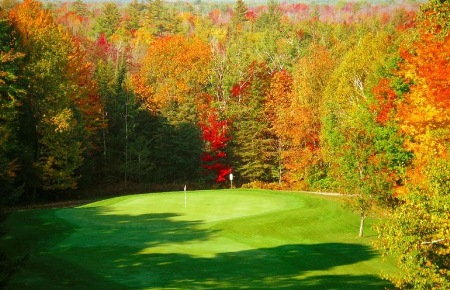 Grand View Golf Club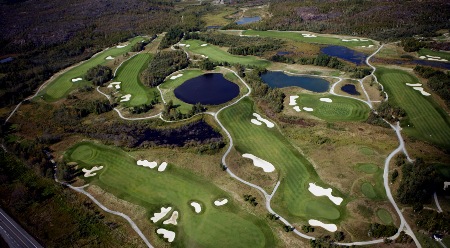 Timberwolf Golf Club


Kalkaska Area ORV Trailheads- many miles of scenic great rides!
NO DIRECT TRAIL ACCESS from our campground only with licensed vehicles or ORV's. Unlicensed ORV's must be trailered to nearby ORV Trailheads

-LEETSVILLE ORV TRAILHEAD - located a few miles east from Kalkaska on County Road 612. Approximately 25 miles of trail. Leetsville ORV trail can be accessed just east of the Village of Kalkaska on County Road 612. The trail winds through state land north, parallel to US131.

-KALKASKA ORV TRAILHEADS - can be accessed at Sunset Trail and M72. The 90 miles of trail makes a big loop north to Starvation Lake, east to the Frederic Trail, and south to Riverview Road and can accommodate mixed motorcycle and 4-wheel ATV traffic. This trailhead is approximately 9 miles east from our campground on M-72. Restaurants and gas just west of the trailhead on M-72.

-Frederic ORV Loop can be accessed off County Road 612 and Old Grade Road. From this staging area you can travel north to West Cameron Bridge Road or south to Howes Lake Road.

-North Missaukee ORV Trail winds back and forth over the Kalkaska-Missaukee county line from Coster Road to Moorestown Road.

-GRAND TRAVERSE MOTORCYCLE TRAILHEAD - approximately 15 miles SW of Kalkaska off Supply Road. Gas and restaurants available in South Boardman or Traverse City.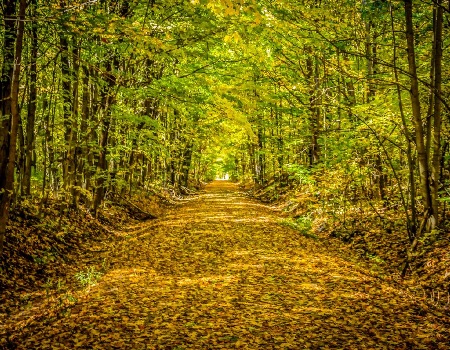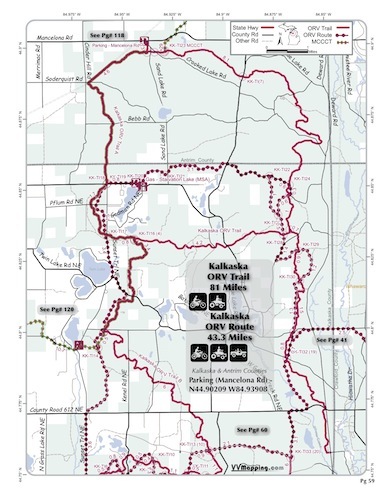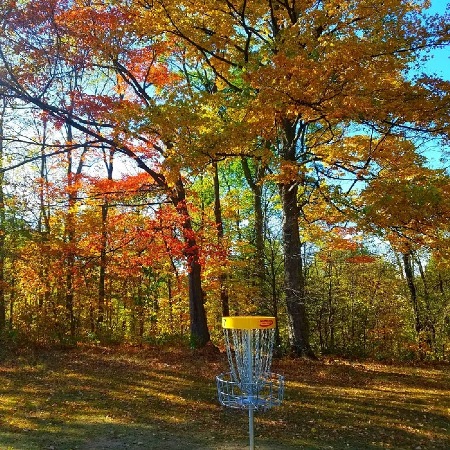 Frisbie Course: Located at Log Lake Park about a mile and a half northeast of Kalkaska via County Road 612 and Log Lake Road.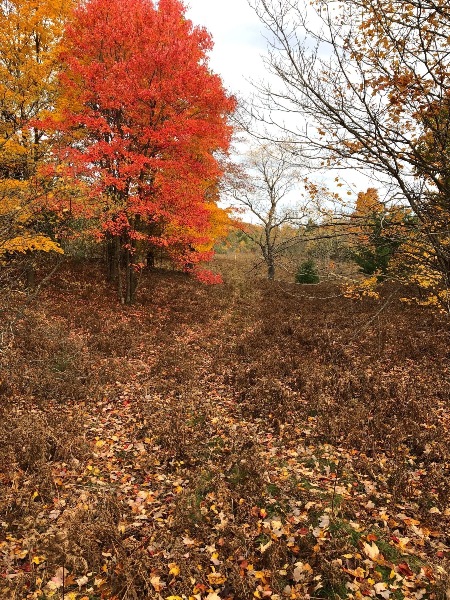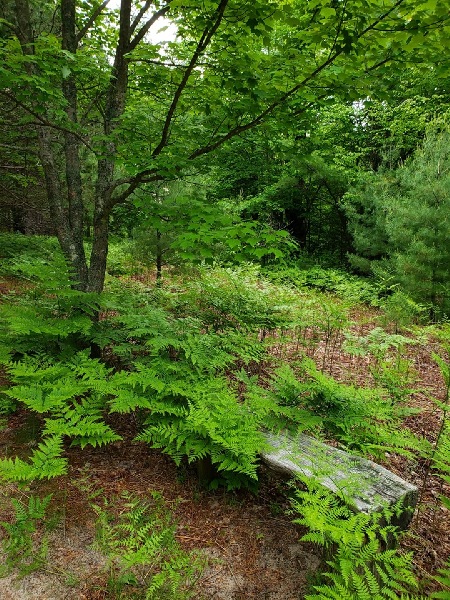 Hike or take a stroll with your dogs along the many miles of rivers & streams in Kalkaska. Ask our staff for area hiking information and suggestions for your family.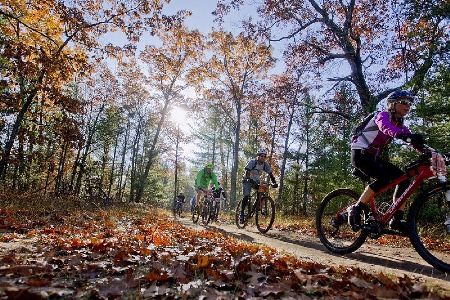 Kalkaska County offers hundreds of miles of OUTSTANDING mountain bikes routes through the Pere Marquette Forest. Trails are available for all levels of riding in the forest. We can help you to view some of the most scenic parts by bicycle. Need trail information? We have it and a personal tour may be arranged. To the west routes can be linked all the way to the popular Sand Lakes Quiet Area and Vasa trail systems in Grand Traverse county.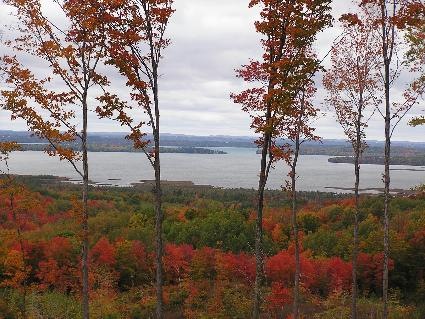 Fabulous views at Skegemog Swamp Pathway home to a wide variety of plants, animals, birds and insects.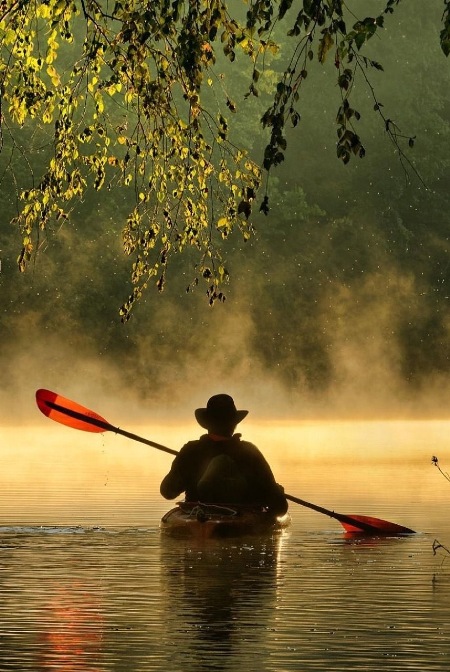 -Rainbow Jim Bridge on the Manistee River, 5 miles west of SmithvilleCCC Bridge on the Manistee River, 4 miles northeast of Sharon
-Guernsey Lake, 5 miles north of South Boardman
-Three Mile Bend on the Manistee River, 3 miles east of Sharon
-Sand Banks on the Manistee River, 2 miles northeast of Smithville
-Cranberry Lake, 2 miles west of Grayling
-Big Blue Lake, 8 miles east of Darragh
-Freedom Park in Rapid City on the Rapid River
-Torch River, Torch Lake, and Skegemog access, 2 miles west of Rapid City
-Smithville on the Manistee River at Smithville
-Pickerel Lake, 4 miles northeast of Darragh
-Starvation Lake, 7 miles northeast of Darragh
-Bear Lake, 11 miles northwest of Grayling
-Cub Lake, 12 miles west of Grayling
-Indian Lake 7 miles northeast of Darragh
-Big Twin Lake, 5 miles northeast of Darragh
-East Lake, 6 miles east of South Boardman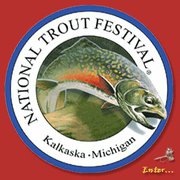 The Camp Office maintains a list of special and area events through out the year such as: Kalkaska National Trout Festival (April 22-26 2020)


Check with hosts: Joseph, Tina or Jessica for details.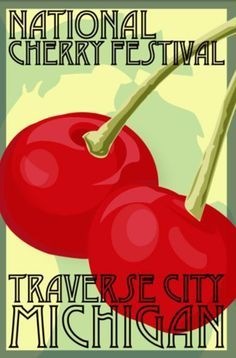 Held July 1 - 6

Click here for "Traverse City Area " Events Calendar

Click here for Kalkaska Events.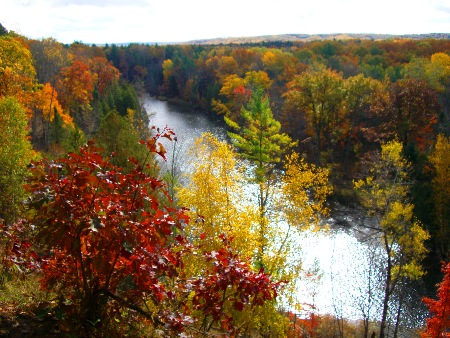 Kalkaska County has great rivers for canoeing, kayaking and tubing.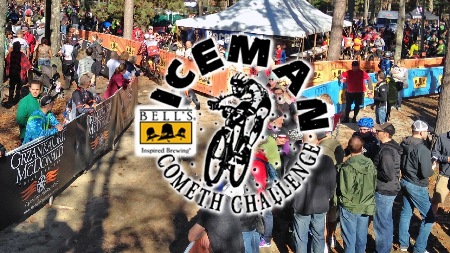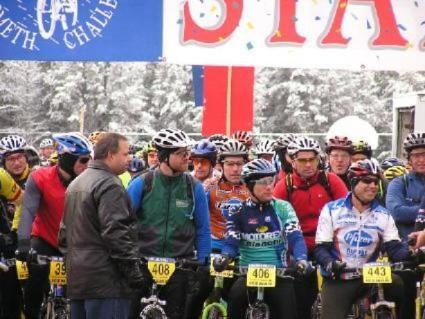 "Iceman Cometh" mountain bike race from Kalkaska to Traverse City. And YES we will be open and currently taking reservations for this event!!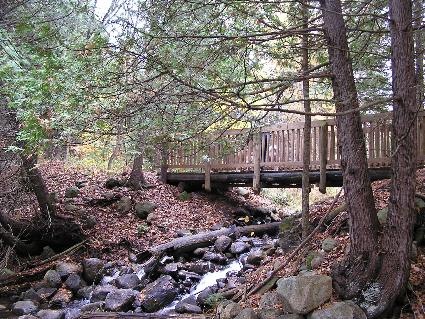 "Seven Bridges Natural Area" with rustic wooden bridges crossing the Rapid River, a blue river trout stream in Kalkaska.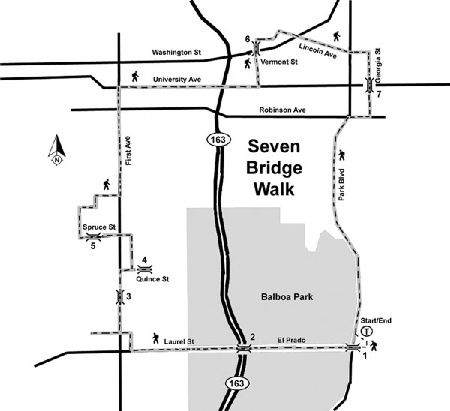 Visit Breweries and Wineries in the Grand Traverse & Leelanau areas.

-Bel Lago Vineyard and Winery
-Black Star Farms
-Chateau Fontaine
-Chateau de Leelanau Vineyard and Winery
-Cherry Republic Winery
-Ciccone Vineyard and Winery
-Gill's Pier Vineyard & Winery
-Good Harbor Vineyards
-L. Mawby
-Leelanau Wine Cellars
-Shady Lane Cellars
-Willow Vineyard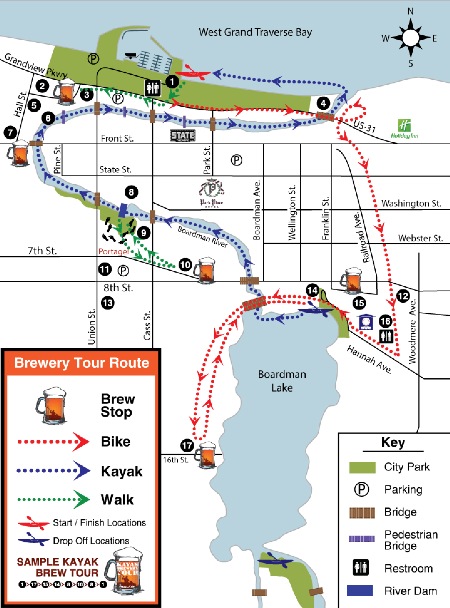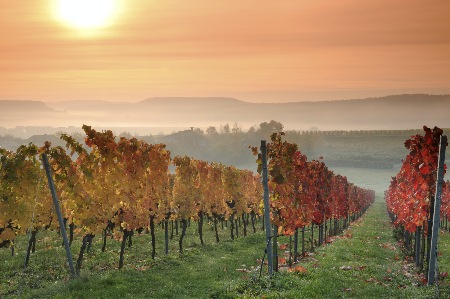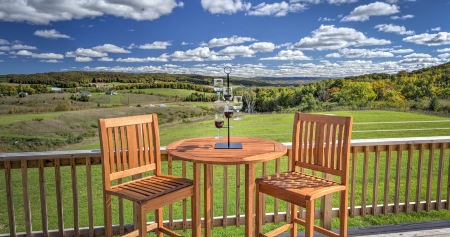 Bay View Wine Trail is a must see! https://www.mynorth.com/2017/06/bay-view-wine-trail/